My name is Andrea Bianchi (Korean: 안두리), and I am an Associate Professor (tenured) in the Department of Industrial Design and an Adjunct Professor in the School of Computing at KAIST, and the director of the Make Lab. I research in the field of Human-Computer Interaction (HCI).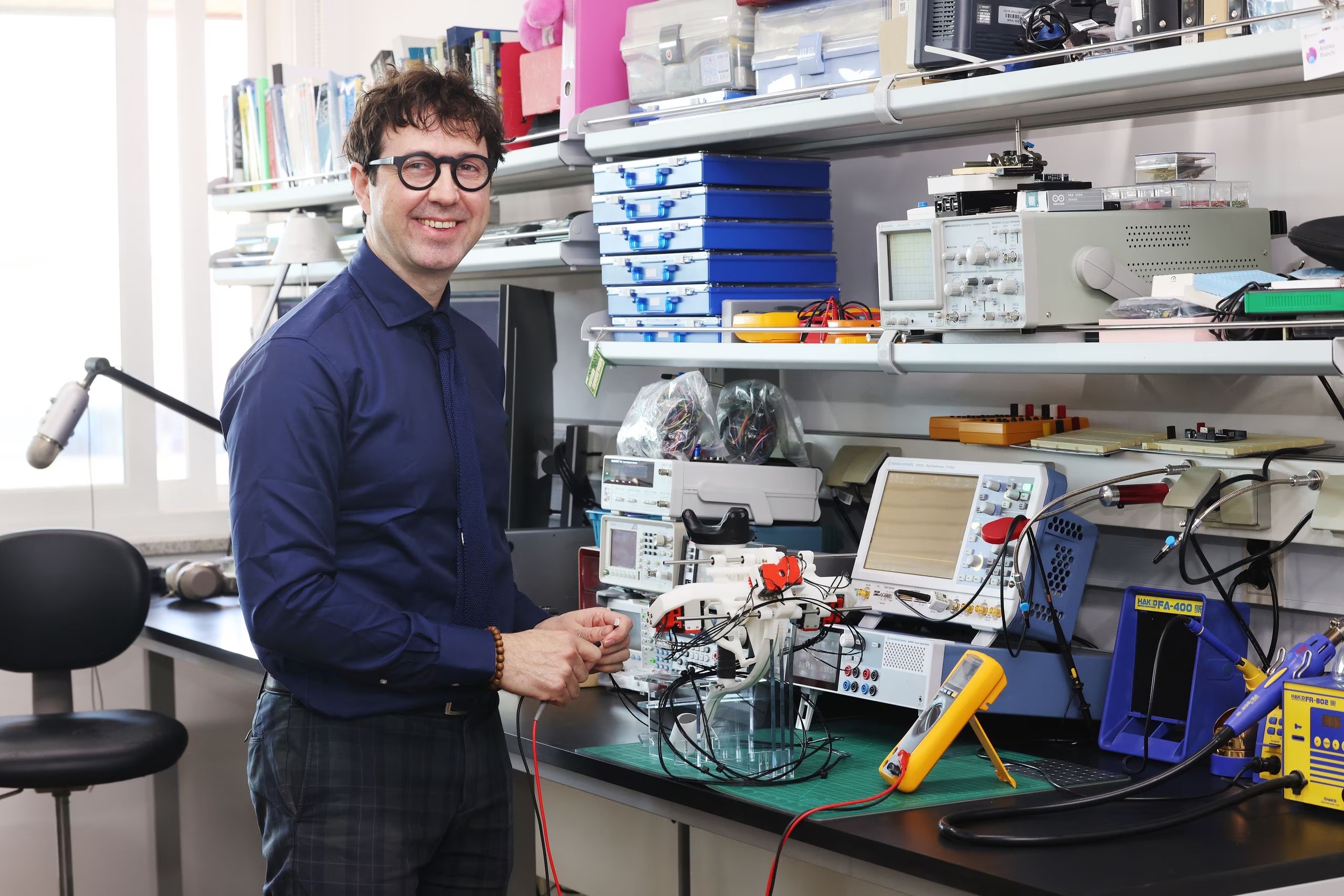 The focus of my work is to investigate how physical interaction can enable rich and expressive ways to interact with computers that are symbiotic or alternative to mainstream graphical user interfaces. The physical interfaces resulting from this vision are tangible UIs, mechatronics devices for interacting with digital content, toolkits for fabrication and electronics, and wearable devices. My lab work has been recognized with 9+ Best Paper and Honorable Mention Awards at the premiere HCI venues.
Before joining KAIST, he worked at Sungkyunkwan University (Korea) as a faculty member in the Department of Computer Science, and as a video game programmer for a New York startup. Andrea received a Ph.D. from KAIST (Korea) in 2012, an MS in Computer Science from NYU (USA), and a Laurea (BSc+MS) in business administration from Bocconi University (Italy). Andrea has an Erdős number of 3 and collects eyeglasses.
Experience
KAIST, Associate Professor - Department of Industrial Design (9/2019 - present)
University of Sydney, Visiting Researcher - Faculty of Engineering (Computer Science) (20/11/2023 - 16/2/2024)
KAIST, Adjunct Professor - School of Computing (1/10/2022 - present)
KAIST, Adjunct Professor - Human-Robot Interaction Center (3/2022 - present)
Previous roles
KAIST, Assistant Professor - Department of Industrial Design (9/2015 - 8/2019)
Sungkyunkwan University, Assistant Professor - Department of Computer Science (3/2013 - 8/2015)
Vice-chair - SIGCHI Korea Local Chapter (4/2022 - 3/2023)
Awards
Papers
Best Paper Award UIST 2020
Best Paper Award TEI 2021
Best Paper Award MobileHCI 2013
Best Paper Award HCI Korea 2022
Best Paper Award HCI Korea 2018
Best Paper Award HCI Korea 2015
Honorable Mention Award CHI 2022
Honorable Mention Award CHI 2021
Honorable Mention Award Augmented Humans 2021
Honorable Mention Award MobileHCI 2017
Honorable Mention Award MobileHCI 2016
Best Poster Award UIST 2016
Design
iF Design Award 2021
IDSA 2021 Bronze Design Award
Others
KAIST 2020 Technology Innovation Award
Breakthroughs Readers' Choice Award 2021 KAIST College of Engineering
Excellence Teaching Award Fall 2017 Industrial Design, KAIST
Academic Services
Program committee and editor
CHI 2015/16/18/19/21/22/23
UIST 2020/23
DIS 2018/20
TEI 2016/18
SIGGRAPH E-Tech 2019
IEEE TOH 2020/2021 guest editor
Eurohaptics 2018
DESFORM 2017
IMCOM 2015
Conference chair/organizer
CHI 2023 Student Design Competition jury
UIST 2022 Student Design Competition jury
TEI 2022 poster co-chair
TEI 2020 Student design challenge co-chair
TEI 2017 WIP chair
Korea HCI 2021 International Chair
Mobile HCI 2021 poster co-chair
Mobile HCI 2019 Web chair
ISS 2019 Poster co-chair
Asia Haptics 2018 demo co-chair
IEEE World Haptics 2013 art chair
HAID 2013 poster chair
Teaching
I have tried to explain a little about my teaching philosophy in this interview:
ID311 - Software Prototyping (current)
Fall: 2016, 2017
Spring: 2016, 2018-2023
ID220 - Interaction Prototyping (archive)
ID307 - Interface Design
Additional Resources